By John Shoemaker and Lang Cooksey
Having digested two days of panel discussions and debate by influential speakers and decision makers at the inaugural OTT Summit USA at Atlanta's Turner Studios, here are seven key insights about the evolution of OTT sports content delivery and viewing.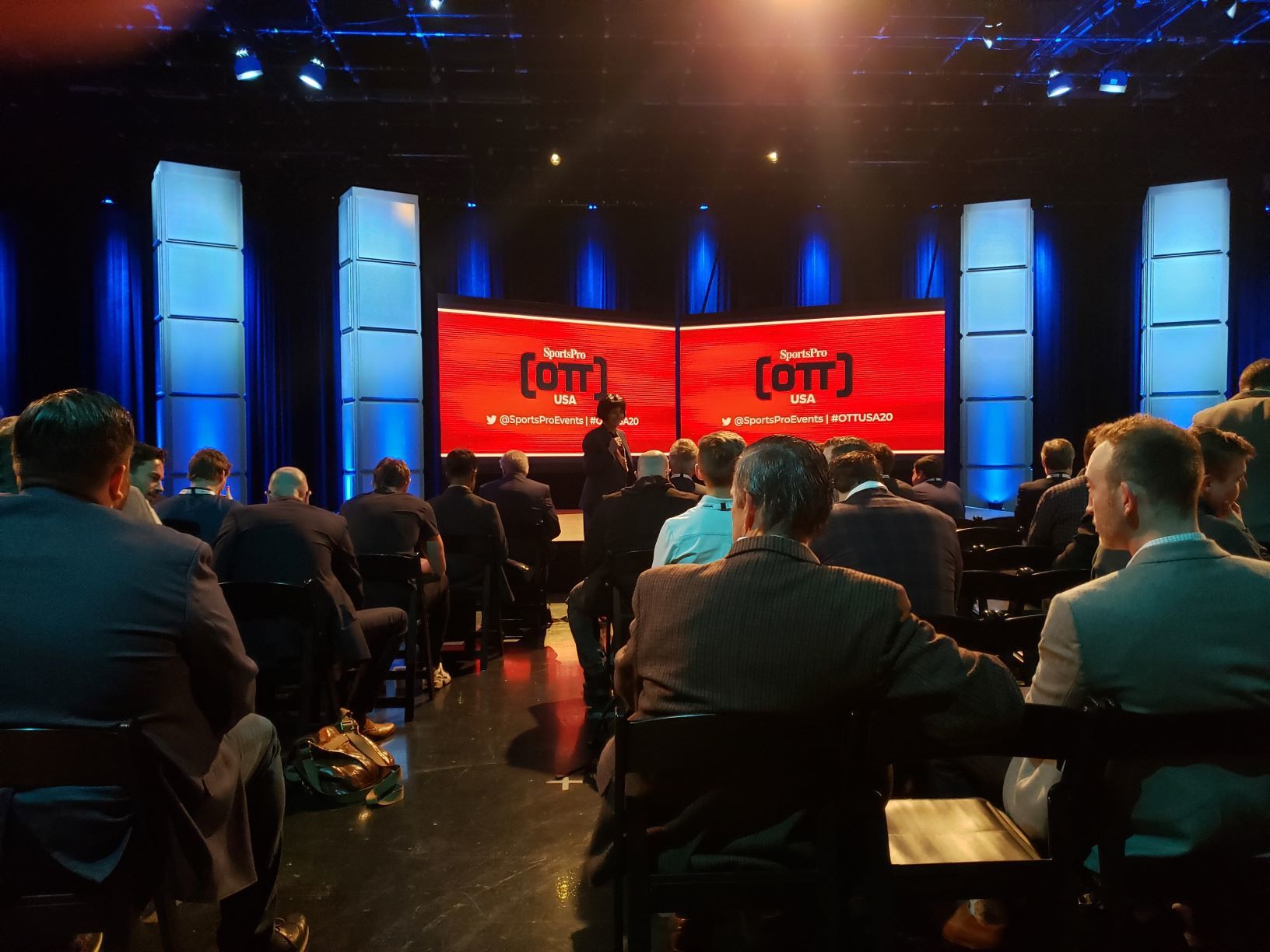 1.) Latency – The biggest content distribution problem remains to be latency. 'Glass to glass' latency for sports or live events is the challenge of reducing the seconds of delay or down to sub-second delay. The goal is to have live events simulcast with linear TV which is critical to the success of OTT streaming. Although everyone in the industry is aware of latency issues and many are working on software and hardware methods to lower them, no solution was discussed on how lower latency could be achieved. One method, CMAF was mentioned to be helpful, but is most likely a year away.
2.) Piracy and rights protection - One estimate for the Anthony Joshua v Andy Ruiz boxing match of 2019 was that it was pirated and watched by more viewers than the number who paid in the U.S.A., so piracy is a huge concern for OTT. Most of the panelists agreed they did not know how to prevent or even lower the amount of piracy occurring, though many initiatives are being undertaken – first with legislation and enforcement, then education of the public and the athletes, and last with technology. Anti-piracy laws are national - piracy is international. LATAM is a particularly difficult market since the culture sees nothing wrong with pirating content. Some ideas that might help prevent piracy are watermarking/fingerprinting, real-time monitoring of social media and other outlets for theft and then shutting them down once discovered. One panelist even suggested fighting fire with fire by hacking the pirates as they hacked the content provider/distributor.
3.) Monetization - A driving theme that appeared in most panel sessions was how to monetize the content, particularly premium content such as live sports. Some initiatives that are being used are second stream, multiple platforms, free content to drive pay, niche events, etc. Much of the discussion centered on the under-30 generation being a prime target since they are most likely to want to have multiple inputs when viewing (multitasking). This brings up the next insight about personalization of content. For example, second streams enable individual views dedicated to a specific player where social interaction groups form around that stream – then they can set up a pay for view around that social stream. No one is sure about how to price this new and valuable viewer content or how big is the consumer's appetite for it. Some content distributors such as DAZN have a monthly or annual plan while the NBA has a monthly, annual, game and even quarter of a game plan. Does the consumer want both DAZN and NBA packages and must pay for another personalized second stream on either? Right now, there is a lot of speculation on how this will work and play out.
4.) Content personalization - 'Fan first' or content personalization was a major discussion point on most panels. In order to monetize the content and capture paying audiences providers need to offer something unique that smaller subsets of viewers or even individuals would want to purchase – for example real-time stats on a game or player information on the viewers favorite player in the stream. Most of these concepts are targeted at second screen viewing – watch the game on TV (pay or free) and then pay for specific second screen access such as different camera views, game/player content, betting/gambling info, etc. The biggest issues with the personalization of content is latency – if the content is delivered too late versus the on-field action then it is worthless or of little value. Each viewer could have content targeted at what they want to see, when they want to see it, and where they want to see it. Many of the newer platforms have built in social media interaction capabilities.
5.) eSports - Esports is a growing market with statistics showing gamers aged 35 and younger are an affluent target demographic. Esports could be the fastest growing segment of the OTT world as it seems to lend itself to personalization, gambling and monetization without force fitting legacy methods into OTT. Concerns about the market are centered around keeping younger people engaged enough; do they have money to spend on eSports; how to keep the aging target market as they mature (have families, careers), and most importantly continue to attract younger people and new gamers.
6.) Gambling is believed to be an enormous untapped market. The goal of OTT gambling is to provide real time betting information in content stream overlays and to allow betting through the application or stream. European markets provide some of this capability, but unresolved regulatory issues in the U.S. make this illegal now and projected to be years away.
7.) Social engagement - All the panelists agreed that the ability to build social media into the OTT platforms or offerings was critical for growth. Social engagement whether through the platform itself or via traditional social media (Facebook, Twitter, etc.) is higher for OTT and live events than linear traditional TV. OTT also skews toward younger audiences who already use social media more heavily than older audiences. Younger users are also comfortable multitasking on devices (chatting, posting, watching video, etc.) at the same time. Social media engagement on OTT is considered 'lean forward' content and some of it may even be user generated. For example, a user could capture a picture or a video of something at a live event that the event provider did not have as good a camera angle or view of. Once the user posts their video, the content provider could incorporate it into their content, possibly as a highlight package. Social engagement also allows the content provider to interact directly with users in real (or near) time. This can help the provider alter content views and other information in near real time for the rest of the distribution. Almost all providers and distributors have 'war rooms' during live broadcasts that monitor social media. In this manner, they can respond and generate content for those users in real time to keep engagement active. They can also monitor for piracy on social media.
OTT is a Work in Progress
For the big existing linear players, OTT is a work in progress. They are struggling with how to use existing workflows (or how to change them) to work with OTT, but it is a different world. Content created for OTT distribution does not easily go backward to be used in linear TV (promos and highlights are formatted differently and must be reworked to be used in linear). Everyone thinks OTT is the future and will continue to evolve and grow. Live sports on linear TV is the differentiator right now. During the upcoming rights negotiations (NFL, NBA, MLB, NHL) the game could change. If an OTT provider secures those rights away from linear distribution, then the dynamics of OTT take on a completely different urgency. Of the top 10 shows watched in 2019 – eight of them were live sports, one was a live event (Oscars) and one was a TV series finale (Big Bang Theory). If any of the major sports shift to an OTT platform – ESPN+, CBS All Access, there will be a major shift in how people approach OTT and viewing of live content. The most likely event is some distribution will continue via OTT (Amazon and Twitter already do some NFL but not as the only viewing platform for the game).
Qligent can help content distributors address many of the challenges with the delivery of OTT sports streaming. Qligent's Vision platform monitors streaming performance feeds in real time and provides root-cause analysis to respond to problems before sports fans can turn away. Qligent Vision gathers OTT-specific metrics prevalent in latency such as HTTP server and client errors, buffer errors and playlist errors. Qligent Vision allows providers to perform real-time and/or historical root cause analyses for future predictive analysis and prevention. Combined with Qligent Analytics, Qligent Vision helps provide reliable audience measurement and trend prediction. For more information, contact us.