The year 2020 was designated as the year of sound by the International Commission for Acoustics, but it has turned into the year of streaming. When stay-at-home isolation orders were issued in early March to prevent the spread of COVID-19, consumers were compelled to experience more home entertainment. While the use of streaming services was already on the rise, the pandemic has boosted growth with more attractive and available services. Many providers are offering reduced rates or free trials with expectations that subscribers will not cancel once life returns to normal. Starz, for example, is offering a three-month subscription for just 5 dollars per month while Netflix is free for 30 days to new subscribers.
Let us explore the growth of OTT streaming further. (See the full accompanying infographic.)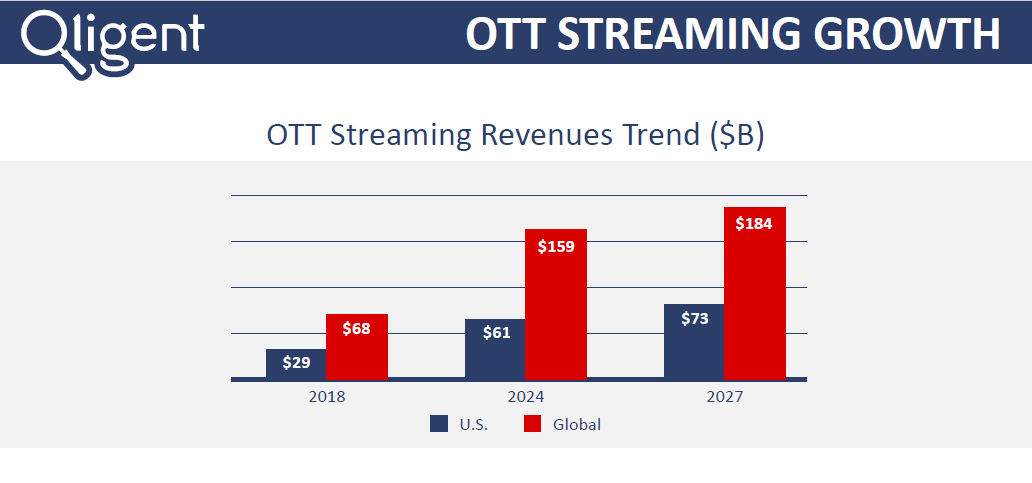 OTT revenues for subscriptions and advertising have burst from $68 billion worldwide in 2018 to a forecasted $159 billion in 2024 to $184 billion in 2027 according to Grandview Research. This amounts to a 20 percent cumulative aggregated growth rate from 2020 to 2027. Household streaming use accounted for 23 percent of TV usage in broadband homes in the first quarter of 2020 compared with 19 percent in the last quarter of 2019. Nielsen has predicted a 60 percent increase due to the COVID-19 pandemic.
Technology has enabled consumers to increase their mobile viewing by being able to watch what they want, when they want and where they want. Viewers use a variety of streaming devices including tablets 30 percent, smartphones 48 percent, computers 55 percent and tradition TV 73 percent of the time.
With over 300 streaming services available in the U.S. today, Parks and Associates reports that almost half of households subscribe to two or more compared to one-third in 2017 and one-fifth in 2014. The top three worldwide providers are Netflix, Amazon Prime and Disney Plus with 182.9 million; 150 million; and 50 million subscribers, respectively. It is interesting to note that Hulu has 30.7 million and recent mobile shorts entrant Quibi has 2.7 million.
The launch of Disney Plus, HBO Max and Peacock will result in significant audience churn of other services. The Langston Co. forecasts Netflix to lose 12 to 17 percent of its U.S. subscribers and Hulu 15 to 19 percent.
Content and affordability are key factors in consumers keeping their streaming services, but 40 percent say they are concerned about quality of experience or QoE according to an Accenture study. Content providers are in an ongoing battle for brand awareness due to the number of viewing options available. Ensuring OTT quality is paramount to increasing channel brand recognition and viewer retention. Key OTT metrics to monitor are startup time, rebuffer time, error rate, average bitrate and resolution.
Qligent Vision monitors OTT streams in real-time 24/7 to ensure negative issues affecting user experience are identified and mitigated prior to creating audience churn. Qligent Vision gathers OTT-specific metrics such as HTTP server and client errors, buffer errors and playlist errors. Qligent Vision combined with Qligent Foresight™ provides reliable audience measurement and trend prediction.
OTT Monitoring & Distribution: Getting on Top of Events [Webinar]
Encompass Digital Media's Scott Rose and Qligent's John Shoemaker discussed what OTT will look like post COVID-19, who is driving OTT distribution and monitoring, and whether it is time for a new approach. View the recorded webinar here.