In today's digital world, it's hard to imagine taking days to receive a physical copy of a syndicated program or paid advertisement. Or that a quick change in programming wouldn't happen unless it was live or transmitted by the national broadcasting network. Long gone are the times of loading fragile film or clunky cassette tapes onto audio/visual production equipment. (Am I showing my age?) The advent of the internet and digital media has been a game changer for businesses, broadcasters and content distributors alike. Now, rather than owning and maintaining systems hardware and data centers, broadcasters are reaping the benefits of cloud computing for storage and distribution purposes. Cloud computing allows businesses to shift their spending from capital expenditure (CapEx) to operating expenditure (OpEx) by performing computing as a service instead of using physical servers.


Cloud Computing Advantages
The main advantages of cloud computing for businesses are scalability, efficiency, flexibility and reduced cost of ownership. The cost savings and flexibility of the cloud are partly due to business applications using Software as a Service (SaaS) rather than individually hosted software applications on information technology (IT) hardware. (Think Dropbox or Docusign.) Cloud computing services known as Infrastructure as a Service (IaaS) make available physical network hardware, operating systems and data centers to users for a fee. (You might be familiar with AWS EC2 or Rackspace.) Sharing business application software and IaaS with other users in a public cloud platform provides significant cost savings. However, a private cloud model can offer better security and performance because businesses only share the cloud provider's infrastructure while applications are stored separately.

According to a recent survey by IABM, 47 percent of companies have adopted cloud computing and 33 percent prefer a hybrid platform.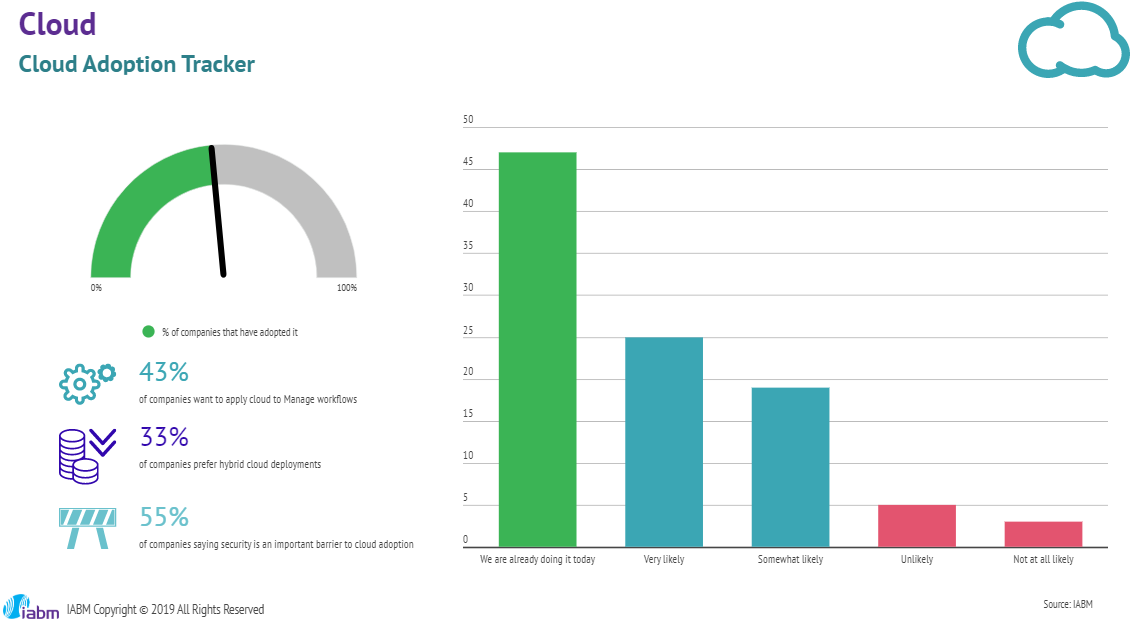 Businesses are reluctant to share their proprietary data in a public cloud where their competitors might be. (Yet, most cloud data breaches are due to human error or misconfiguration.) Often organizations simply prefer the security and control they have by maintaining their data in a private cloud. Hybrid cloud is becoming the most popular approach with a mix of applications, data and infrastructure using both public and private cloud. Hybrid offers the best of both worlds where businesses can choose which workloads need to be housed in a public or private cloud.

Now that we've reviewed the advantages of the three types of cloud platforms, let's look at additional cloud benefits for content providers.


Cloud Benefits for Content Providers
The good news is that programming content is considerably easier to store, handle and deliver via the cloud regardless of large file sizes, multiple formats, resolutions and bit rates. Now content providers can easily offer viewers catch-up services for watching older or missed programs on demand. The flipside is that broadcasters and content providers are faced with meeting the unpredictable swings of consumer demand. Viewers are desiring more and new high-quality content and across various device types. Whether watching on a smartphone, tablet, PC or TV, consumers expect their viewing experience to be seamless regardless of how and where it is delivered. (I personally would rather watch a football game on a big-screen TV than a cell phone, but sometimes convenience rules.)

Not only are organizations able to access and provide quicker media delivery with linear, Video on Demand (VoD) or subscription video on demand (SVOD) services via the cloud, but they can also present a better quality of experience (QoE) to viewers. The cloud helps organizations to make optimal use of resources and scale with high bandwidth and lower latency across multiple networks. Fewer delays in delivery and better responsiveness is critical to meeting the expectations of both advertisers and consumers. The advantages of agility and responsiveness allow content providers to offer innovative and engaging programming on-the-fly to their viewers without too much investment. (They might even experiment with showing that pickleball tournament.)

Cloud playout is ideal for limited tournaments, sporting events or live coverage where broadcasters can better manage workloads by only paying for what they use. The cloud can help to adapt content for storage and delivery to specific device types using various operating systems. They use the cloud infrastructure to support efficient and agile programming such as localized content and ad replacement, while controlling costs, extending their reach and monetizing content better.


Maximizing Monitoring and Machine Learning
Cloud service providers offer customers tools for monitoring and measuring their cloud computing service usage for maximum efficiency and cost controls. Operators can also take advantage of a cloud-based solution to monitor media content delivery from headend to the last mile, gaining insight and correlation along data sets. Qligent Vision™ leverages a cloud-based solution using intelligent architecture and scalability so that broadcasters and content providers can maximize the use of their cloud deployment. Qligent's Vision platform delivers data aggregation, visualization, analysis and reporting to authorized users via a web-GUI in a multiuser cloud-hosted environment. The service requires deployment of several licensed (SaaS) software probes for testing and monitoring from a central location that report to the Qligent cloud aggregation server. The operator can efficiently aggregate information across distant probing points and make performance comparisons that not only address QoE but also service level agreements and customer expectations. In this manner, correlating trending and analytics helps predict quality issues for prescriptive action before they become user issues.

Migrating to the cloud addresses the dynamic requirements of storage, networking and processing, but also facilitates in the application of machine learning and predictive analytics. Cloud computing efficiencies can help operators turn compliance recording and audience engagement data into useful and predictive analytics.

If you would like to learn more about how Qligent Vision can help maximize the use of your cloud services, contact us.